ACCRA, Ghana— Under Samuel Lamptey's guidance, his team doesn't ask for much. If it were too much, it wouldn't have been openly publicized. If he weren't looking for the benefit of the entire community, Collins Seymah Smith would have kept his permanent job. The least the onlookers can do to make this endeavor successful is to abstain from sex.
A bald girl, maybe seven-years-old, clutches the ends of her denim frock while still keeping her eyes fixated on the character that stormed through the middle of the crowd. Another woman, maybe in her thirties, stops her mid-day sales of smoked fish – the basket still toppling over her head- to watch the narrative unfold. The hero is obviously the female character that doesn't end up getting pregnant.
The flash mob culminates with Susuka by Kofi Kinaata still playing in the backdrop, while all the actors converge in the middle to end in the one final dance step that involves dramatic hand gestures simply translating to, "No sex."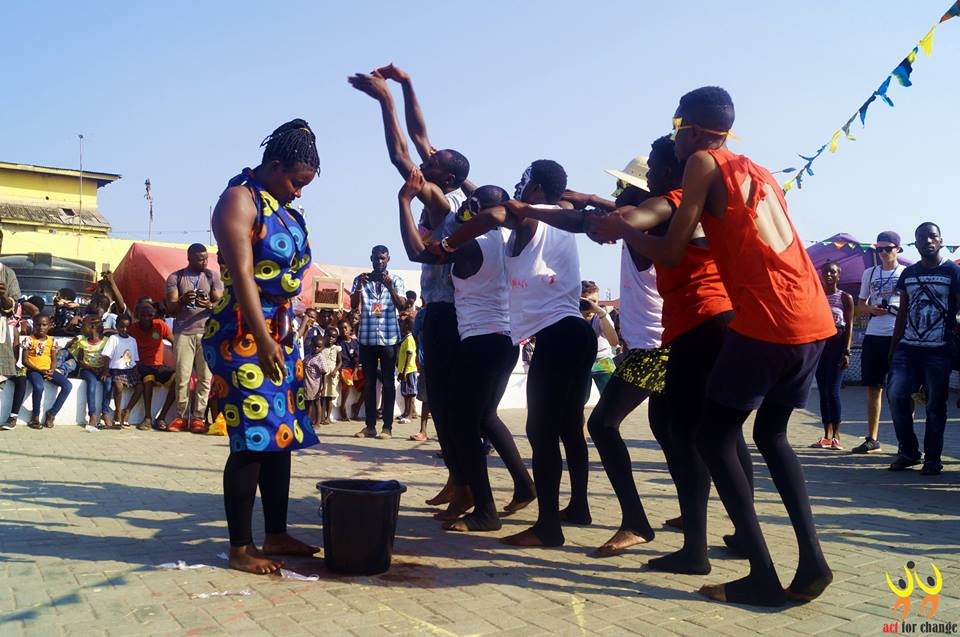 Adorned in occasional giggles and bright colors that perfectly accentuate their skin tone, the crowd of about fifty, mainly comprised of teenagers and young adults, who may or may not be attending school, but are Lamptey's potential targets. Teenage pregnancy is not just a major concern in the Shama region, where Lamptey was performing, but it spans across poor neighborhoods throughout Ghana, one of the fastest developing countries in West Africa.
According to statistics released by the Ghana Health Service, over 35,000 cases of teenage pregnancy had been recorded in the country during the year 2015. Mr. Eric Cobbina, the district chief executive of the Shama District, addressing the issue one year later, said, "Meaning one out of every five reported pregnancy case is a teenager."
According to an article in Ghana News Agency, "He described the situation as unacceptable and called for concerted efforts and commitment to tackling the concern." Lamptey and Smith seemed to be the only ones obligated.
About 130 miles from the Shama Region, Smith and Lamptey have occupied an old colonial building in Jamestown- donated by the Accra Metropolitan assembly- that they now call "Jamestown Community Theatre Center." "Theatre is our flagship," says Collins Seymah Smith, 37, the director of the theatre group that is "initiated and sustained by the young people of the deprived community of Jamestown." The group that registered itself as an NGO in 2011 now has about 50 volunteers across the country and a few from abroad. Using interactive theatre as a medium to focus on everyday issues, the volunteers work to tackle problems that seem to haunt their community.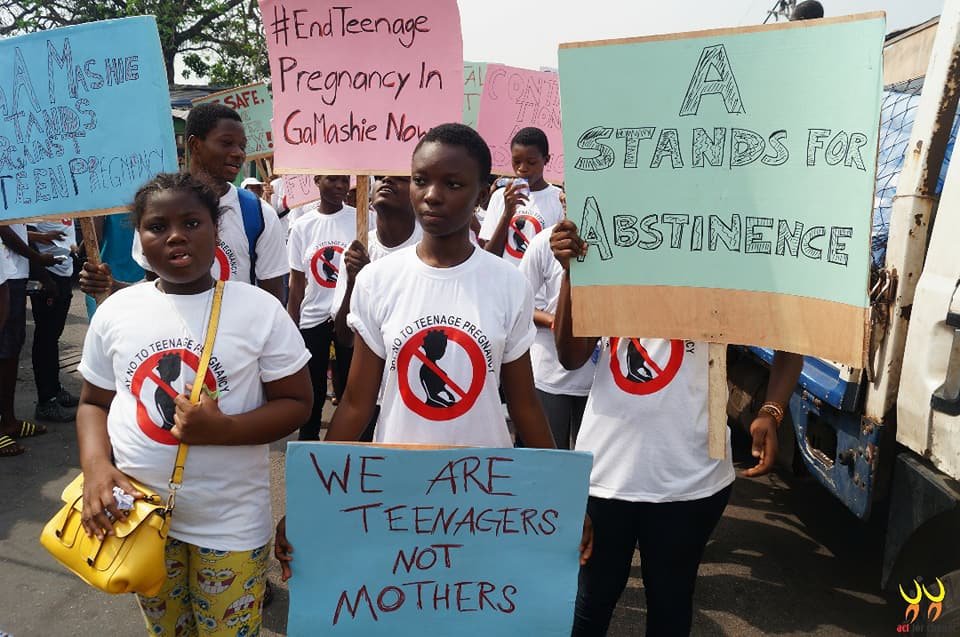 Remnants of Accra's colonial history and a distressed fishermen community make up the crux of Jamestown, the oldest and poorest neighborhood in the fast developing capital city, Accra. Compared to the modern infrastructure of the city center and the ever-expanding posh residential areas of the suburbs, Jamestown remains a filthy pig that the officials refuse to domesticate.
Teenage pregnancy, alcohol and drug abuse, unemployment, and sanitary issues, are as much a part of this vicinity as are the dramatic graffiti on broken roadside houses. Bursting loudspeakers are as randomly positioned on the sidewalks, as are the strolling goats, enjoying just as much space inside houses, as do the citizens of this neighborhood. Residences are either dated a hundred years or newly built after a night of heavy rainfall.
A group of teenagers aged nine to fifteen occupy one of the colonial buildings that might easily pass off as a huge pile of unused stones and rocks to any ignorant tourist eye. Inside the enclosed space, clothes dry on a synthetic rope that stretches from one crack on the wall to another. From behind the clothes, loud giggles and foot taps are clearly audible. Anyone living in Jamestown, can easily match-up to the steps and sing along the tune.
"It's the hand-wash dance!" said Emmanuel Markhansen, a 30-year-old artist from Jamestown community, who boasts of himself as the "co-coordinator and guide of the whole community," to tourists who wander in search of ruins from the colonial era.
Markhansen, along with other community members has now learned the hard rule, "They said when you are washing your hands, the water shouldn't be in bowl; the water should be flowing. They came into my house and taught me. They even made a song for it and we all dance to it."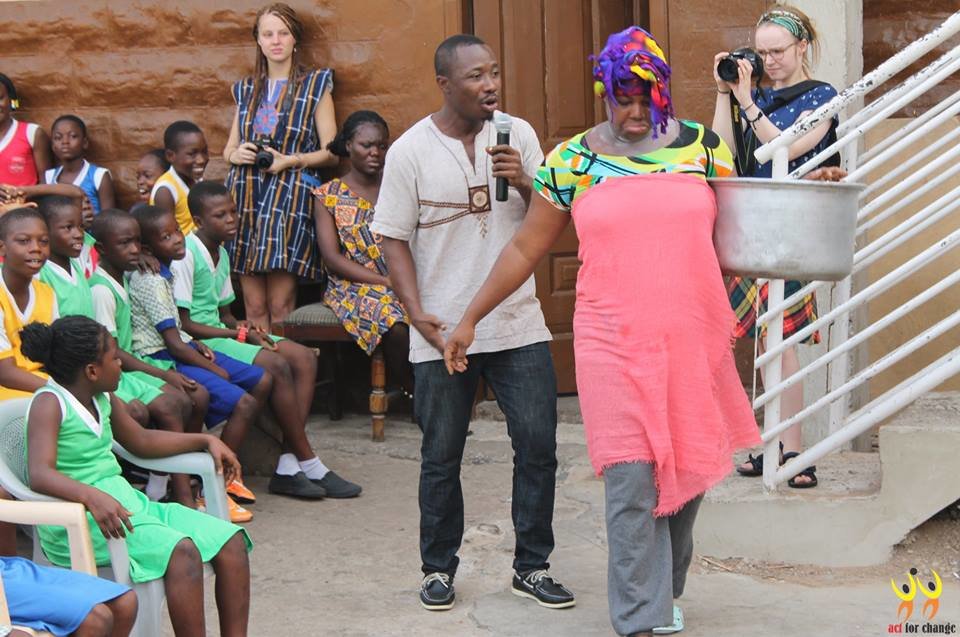 One of the many tactics that Smith and Lamptey's team adopts is barging into open household doors and demonstrating newly acquired sanitary regimes. What mainly drives them, according to Smith is their "passion for theatre."
"I was first introduced to drama in elementary school. It was almost Christmas and the play we performed was about Mary and Joseph. I was Joseph," said Smith, who decades later, would ultimately be approached by the UK based NGO, Theatre for Change in 2009.
An organization maintained by a strong partnership between the United Kingdom and Malawi, Theatre for Change has been working with vulnerable and marginalized groups in Ghana since 2003. In Jamestown, they initiated behavior change workshops about sexual and reproductive health, human rights, and women-centric issues.
"After training with them, we were introduced to a new form of theatre called interactive theatre. We were all happy about it and we got hooked to it," Smith said while scanning the theatre.
"We believe interactive theatre is rehearsal from real life. Sometimes when people are sitting behind and watching, they say 'Oh! I would have done this or I would have done that if it were I,' that's simple to say but now we are encouraging people to come and do it on the stage," said Lamptey, 27, who is also the programs director for Act For Change (AFC).
Initially, Smith worked as a community development officer and later on as a monetary officer for Theatre for Change. But by the end of 2010, Theatre for Change had to relocate to another region and focus on different issues. "That's where Samuel and others, who were trained, came in. The interest and funds Theatre for Change provided died up. But we had a lot of issues in Jamestown and somebody needed to tell the stories of people here," he said.
"Whatever money we got, we used it to register Act For Change in 2011." In 2013, Smith and Lamptey finally quit the government jobs they had taken up "which is when the organization was having a retreat," said Smith who believes that he was able to "do a lot more by dedicating all his time to the cause." To increase community participation, AFC makes it a point to often approach playwrights from the community itself but the plays are mostly written and directed by the volunteers themselves.
"Because it is in our local dialect (Ga), we write our own dialogues. For child marriage or unwanted pregnancies, for instance, we all sit together and brainstorm ideas. We try to think about stories and real instances from within the community and then turn it into a narrative," Lamptey added.
Ask Smith or Lamptey about the results or the aftereffects of the work they do and they would find it difficult to come up with quantitative data. Smith, however, remaining optimistic, smiles and folds his hands, "The kind of work we are doing, you can't see it right there in short-term or quantify it right away. But whenever people see us for example, they sometimes ask for condoms. It means, they got it!"
One woman, who certainly agrees with Smith, is Susana Dartey, 31, who is not just an active member of AFC, but started her own NGO called "Women of Dignity Alliance." Working for the welfare of female sex workers in poor communities such as Jamestown, Dartey remembered cutting her hair, putting on long earrings and changing her wardrobe to dress like she is "one of them (the sex workers)."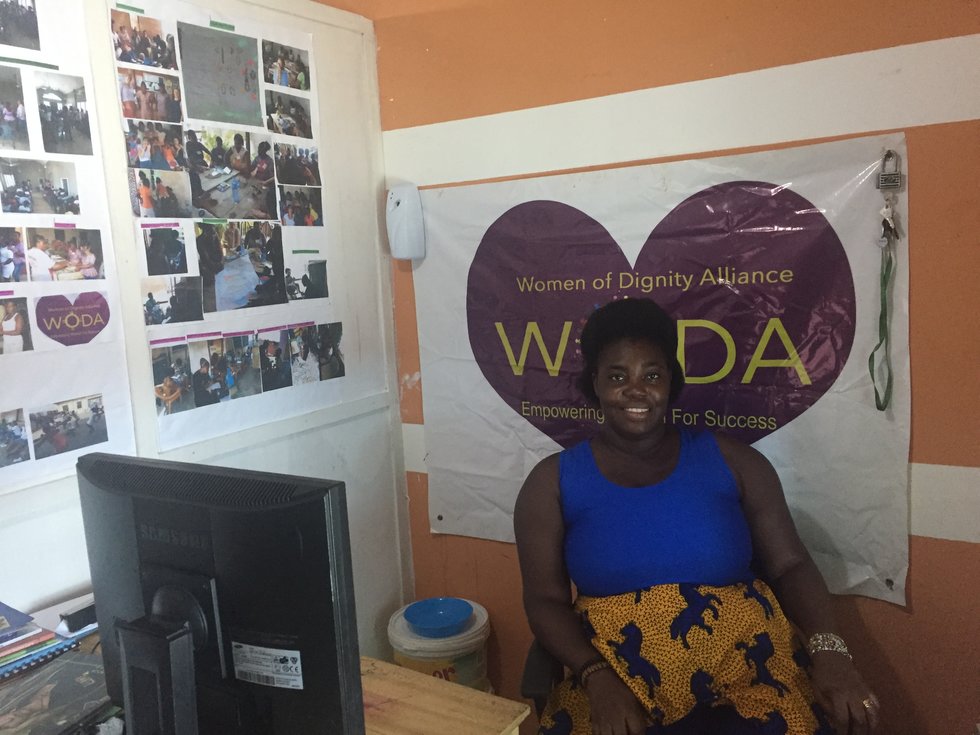 Citing her own example she said, "I got pregnant at the age of 23, which is something that never happens in Jamestown. By the time you are 15, you are already pregnant."
Dartey who in 2014 was one of the participants in the Ghanaian Women Leadership Program, understands Jamestown as though it were her bible. She credited most of her success to engagement in theatre activities, "I dedicated my entire time to Act For Change: attending behavior change workshops, writing plays, and working for community members. This kept me away from the dangers." Addressing key issues faced by AFC, Dartey explains, "They need more support."
Most of the volunteers still pay for their own transport and hardly receive any money for their work. The theatre lacks a reliable supply of electricity, and the volunteers purchase laptops used for research.
Even though the government recognizes and appreciates their work, AFC has never received any kind of monetary support from them. "Last year, the tourism minister came and visited us at the Jamestown Art Festival we put up every year. She thanked us for all our work. But that's about it," said a disheartened Smith.
Daniel Tagoe, 27, an unemployed youth living in Jamestown believes that AFC can easily bring about more changes in the society, "Unemployment is a big issue. They do employ people and I hope they can employ more but I understand funding is an issue."
Sitting in the theatre without any electricity, Smith whose vest is mostly drenched in sweat, smiles and explains, "In five years, Act For Change will be a house with a name not just in Jamestown but all over the world. Act for change should have offices in some big-big regions where we can employ a lot of youth while making change all over the world, and saving lives- teenage lives."